Hey there, fellow tech enthusiasts, Leo here! Today let's talk about Apple Pay Later the new payment feature released by Apple.
Just when we thought the folks at Apple couldn't surprise us anymore, they've gone ahead and unveiled their latest addition to the world of digital finance. This new feature, announced on the official Apple Newsroom, is all set to redefine the way we make our purchases.
Another great news is about advancements in Apple Watch research. You might not know but Apple has a strong presence in the medical field research with the use of Apple Watches. 
In this article, we'll take a deep dive into what that new feature is all about, how it works, and why it could very well be the next big thing for your wallet.
What's Apple Pay Later All About?
In a nutshell, it's a new way to make your purchases using your Apple Pay account. But here's the twist: you don't have to pay for the item upfront. Instead, you can choose to pay in installments, spreading the cost of your purchase over time.
This is perfect for those times when you really, really want that new gadget, but your wallet is giving you the side-eye. With this new feature, you can snag the item now and worry about the payments later.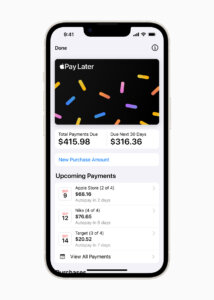 How Does Apple Pay Later Work?
Now that we know what Apple Pay Later is, let's get down to the nitty-gritty of how it works. This feature is designed to be as seamless as possible, integrating directly into your Apple Pay account.
To use it, all you need to do is:
Select Apple Pay as your payment method during checkout.
Choose the Apple Pay Later option.
Review the available installment plans and select the one that works best for you.
Once you've done that, your purchase will be processed, and you'll be all set to enjoy your shiny new toy. The payments will be automatically deducted from your linked account, so you won't have to worry about missing a payment.
The Benefits of Apple Pay Later
Now, you might be wondering, "Why should I use Apple Pay Later when I can just use my credit card?" Well, there are a few good reasons to consider making the switch.
Here's a quick rundown of some of the benefits of using it:
Interest-Free Payments: Unlike most credit cards, which charge interest on outstanding balances, Apple Pay Later offers interest-free installment plans. This means you can break up your purchase into smaller payments without paying any extra fees.
No Impact on Credit Score: Using Apple Pay Later won't affect your credit score, as the installment plans are not reported to credit bureaus.
Seamless Integration: Apple Pay Later is fully integrated into the Apple ecosystem, making it an incredibly convenient option for iPhone, iPad, and Mac users.
Security: As with all Apple Pay transactions, your payment information is encrypted and securely stored, ensuring your data stays safe.
Can you imagine that you could integrate this with your apps and generate more revenue from your users?
What Are the Current Problems?
Of course, no financial product is perfect, and Apple Pay Later is no exception. There are a few potential drawbacks to keep in mind:
Limited Availability: Apple Pay Later is currently only available in select countries and with participating merchants. This means you might not always be able to use the feature when you want to.
Account Requirements: To use Apple Pay Later, you'll need to have an eligible device and a valid payment method linked to your Apple Pay account.
Missed Payments: While Apple Pay Later doesn't charge interest, you may be subject to late fees or penalties if you miss a payment.
With that said, Apple Pay later is not for all yet. But don't worry, if this feature goes well, everyone in the world will integrate into their systems and will be fairly available to more people as time pass by.
Conclusion: Is Apple Pay Later Right for You?
Ultimately, whether or not Apple Pay Later is the right choice for you depends on your individual needs and financial situation. If you're someone who's already invested in the Apple ecosystem and is looking for a convenient, interest-free way to spread the cost of your purchases, this feature could be a game-changer for you.
However, it's important to remember that with any financial product, there's always a level of responsbility involved. Make sure you keep track of your payments and only use Apple Pay Later for purchases you can realistically afford to pay off in installments.
As Apple Pay Later continues to roll out and expand its availability, we can expect more and more people to adopt this convenient and user-friendly payment option. So, if you're ready to say goodbye to high-interest credit card payments and embrace a more flexible way to shop, give Apple Pay Later a try!
Keeping Up With Apple
Apple never ceases to amaze us with their innovative ideas, and Apple Pay Later is just another step forward in revolutionizing the way we make purchases. If you're as excited about this new feature as we are, be sure to stay tuned to our blog for all the latest updates, news, and insights on everything about Apple.
In the meantime, happy shopping, and may your wallet breathe a little easier with Apple Pay Later by your side!
Fellow Apple Lovers, that's all. I hope you liked reading this article as much as I enjoyed writing it. If you want to support this blog you can Buy Me a Coffee or say hello on Twitter. I'm available on LinkedIn or send me an e-mail through the contact page.
You can likewise sponsor this blog so I can get my blog free of ad networks.
Thanks for the reading and… That's all folks.
Image credit: Featured Image