Hello everyone, Leo here. Today I'll teach you something really useful if you install a lot of apps all the time, and that is how to remove the App Reviews prompt.
So, you've downloaded a bunch of cool apps on your iPhone, but they just won't stop bugging you for a review, right? We feel you. Sure, ratings and reviews are super important for app developers and help others decide whether to give that app a whirl. But honestly, sometimes it's just too annoying when you're in the middle of something, and BAM! – a review request pops up.
Fear not, fellow iPhone user! We've got your back. We'll show you a super easy way to get rid of those pesky review pop-ups for good. And the best part? It takes less than a minute.
So, let's get started!
The Quick & Easy Way to Stop App Review Pop-Ups on iOS
How to turn off App Review Requests?
Ready for some peace of mind? Here's what you need to do:
Open up the Settings app on your iPhone. It's the one that looks like a gear.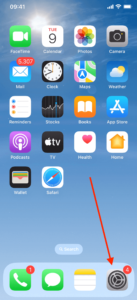 Scroll down and tap on "App Store." It's usually near the top, so you won't have to scroll too far.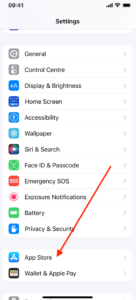 Look for the "In-App Ratings & Reviews" toggle and tap that to turn it off.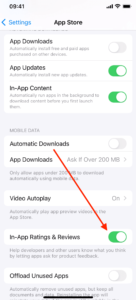 And voilà! You're all set.
From now on, you won't be interrupted by those annoying review requests while you're enjoying your apps. You're welcome!
Summary – How to turn off App Reviews Requests?
Now that you've successfully silenced those irritating review pop-ups, you can enjoy your iPhone apps without any interruptions. Remember, it's always cool to leave a review when you genuinely love an app or want to help the developers improve.
But hey, it's also totally okay to take control and choose when you want to rate and review apps on your terms. So go on, get back to your app-filled adventures, and relish the newfound peace and quiet! Happy app-ing!
Fellow Apple Lovers, that's all. I hope you liked reading this article as much as I enjoyed writing it. If you want to support this blog you can Buy Me a Coffee or say hello on Twitter. I'm available on LinkedIn or send me an e-mail through the contact page.
You can likewise sponsor this blog so I can get my blog free of ad networks.
Thanks for the reading and… That's all folks.
Image credit: Featured Image