Hello Apple Lovers, Leo here. Today we will explore some of the new macOS Ventura Email features.
Apple's Mac OS is a popular operating system used by millions of people around the world. It is known for its user-friendly interface, powerful features, and regular updates that bring new and improved capabilities to users. In this article, we will take a look at some of the latest and greatest features that have been introduced in the latest version of Mac OS. I'm a big fan of apps that come with macOS.
Every time possible I try to use the tools that are already built into the system so I don't download or rely on any third-party development and I'll be always sure that the app has 100% compatibility with the OS and hardware that I'm using.
Also, Apple is really good at using all the APIs they provide this way is very common all the apps have great cross features. For example: send an email as a message in the iMessage. This article will be very brief but I really wanted to show these new features because they really change how I use my email app daily.
Let's check them!  
Schedule when you want to send an email with MacOS
Now you have a new button in the standard email app. At the top can now tap a down arrow to open the new menu to schedule when to send the email. Check the image below!

All the emails will be in a special box on the side: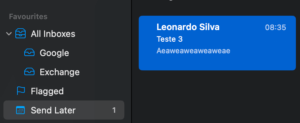 The other two new features are: Remind Me and Undo Send.  
New macOS Email Feature – Remind Me
Remind me feature is useful when you want to be reminded about that message later. This is useful, for example, when you really need to answer an email but you can't do it now. This way you can set this reminder right in the email app and be reminded after some time passed.
One time I heard some advice that changed how I use email forever. One guy that I worked with, said to me that all email he sent was delayed 10 min. So he had 10 minutes to regret the content of the email and cancel the send action. Really smart right? Now you can the exact same thing natively from your email app!
See the new feature in the image below: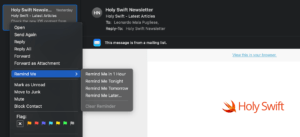 This feature is crucial for people that rely on answering emails but they also have a tight schedule with meetings or others things to do. Mastering it can be the difference between being a successful person or not.  
Undo Send in the Email App for macOS Ventura
Undo Send is an emergency feature. I think everyone already sent an email and after a few seconds regretted the wording or wanted to change anything inside the email. This new feature is really great for you in that situation.
As I tested this new feature, you have approximately 5 to 10 seconds to regret your email. This way you really need to be fast and pull that trigger before the times run out. Be mindful that if the button of Undo Send on the left bottom disappear, you will not be able to Undo the Send any more, it is gone!
To use this feature you can click on the button that will appear in the bottom left corner:

And that's it for today!
Summary – New Features For MacOS Ventura Email
The way the email app evolved in this new macOS Ventura is amazing.
Those three new features are insanely good for productivity and can be a real lifesaver when you use them well. Using the scheduled email you can postpone any email you would send and can cancel it if you regret what you write.
The Undo Send feature is the same vibe but you will only have around 5 to 10 seconds to regret your decision The Reminder Me feature really talks to me because a lot of times I look at something that I really need to answer but then something random appears to do and I forget completely to respond to that email. With this new Remind Me feature that will never happen again.
Fellow Apple Lovers, that's all. I hope you liked reading this article as much as I enjoyed writing it.  
If you want to support this blog you can Buy Me a Coffee or say hello on Twitter. I'm available on LinkedIn or send me an e-mail through the contact page.
You can likewise sponsor this blog so I can get my blog free of ad networks.
Thanks for the reading and… That's all folks.
Image credit: Featured Image