Hallo allemaal, Leo hier. Today we will discuss some iPhone security features that can prevent hackers and other malicious attacks on your phone.
It is known that Apple is very concerned about security it has a lot of good security features like Secure Enclave which is responsible for generating unique cryptography and holding all your sensitive data, and by the way, it is a totally separate hardware to do that.
With that, we can use Face ID which is the feature of face recognition and ensure that our credit cards are safely stored in the device.
There are other Security measures that Apple introduced in the latest iOS that I want to discuss today with you all.
Let's go!  
New iPhone Lockdown Mode
The new Lockdown mode is an extreme feature that should be only used in very rare cases of cyber attacks. When you turn on the Lockdown mode your iPhone will not operate normally when it is in Lockdown Mode. For security reasons, there will be tight restrictions on the apps, websites, and services, and certain experiences won't be available at all.  
How to turn on LockdownMode?
Go to Settings -> Privacy & Security -> Lockdown Mode and tap turn on Lockdown Mode.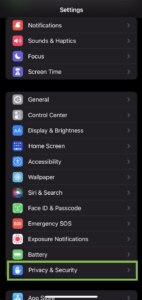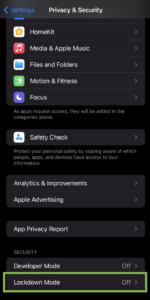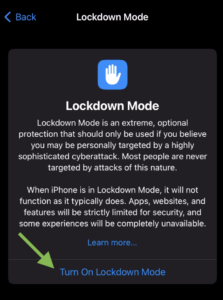 Lockdown Mode is a feature that was initially developed in response to spyware like mSpy or eyZy. It provides an extremely high level of additional protection to device owners who may be vulnerable to highly sophisticated cyberattacks, including journalists, politicians, activists, and government officials.
It works by restricting the most frequently used device features, such as messaging and online browsing, to make it much harder for malware to infiltrate. You never should need this in your life, but if you ever do now you know where to go!  
New iPhone Safety Check Feature
Apple knows that bad things happen, and those we trust more are the ones who can hurt us deeply. Thinking on that Apple designed the new Safety Check feature to enable a full reset of permissions and authorizations in your iPhone. For example: if you are in a situation where you don't want to share your info or communications with someone you can use this feature to disable all kinds of communication between that person and you.  
How to use the Safety Check iPhone Feature?
You just need to go to Settings -> Privacy & Security -> Safety Check and tap "Emergency Reset" or "Manage Sharing & Access".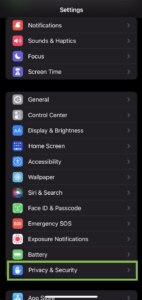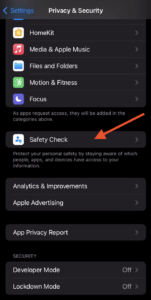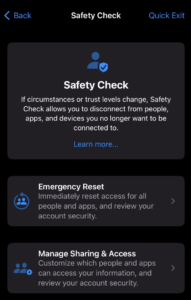 The difference between "Emergency Reset" and "Manage Sharing & Access" is that the Emergency Reset will reset ALL access of people and apps in your iPhone while the Manage Sharing & Access you can select what people or apps can access your data.
If you are interested in how Safety Check works, you can follow up at this link.
This feature is to make sure that when you end any relationship with someone with that you shared data, the other person will not have access to that data anymore. Of course, the other person may notice that you stopped sharing data with them, and this way you can also lose access to some data.
Lock Notes with Passwords
This is a really interesting iOS feature if you use the default Apple Notes app. I really like Apple Notes and I think this is really good if you want to protect information from others. This feature enables you to put a password in any individual note, and that password can be your iPhone passcode or any other you choose making this even harder to crack.  
How to put a password on a Note on iPhone?
To lock a note is really simple. Follow these steps:
Long press the note you want until the menu appears.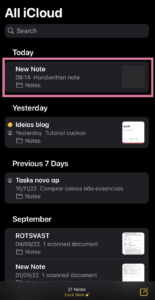 Tap on the Lock Note in the menu that appeared.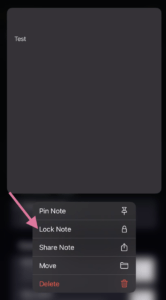 Now it will be prompted to choose a new password or use the device passcode. After you chose that the note will appear like this: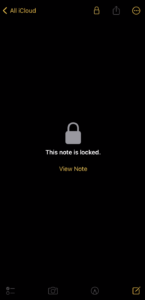 Don't worry if you want to change the password type. Let's say that you chose your iPhone passcode/Face ID to open the notes, but as an afterthought, you decided that you want a custom password.
Just go to Settings -> Notes -> Password. And change it: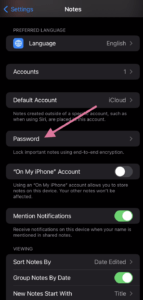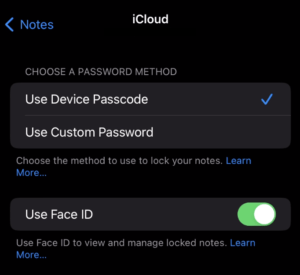 This way you can change the password method to lock and unlock your notes. Pretty useful, right?
And that's it for today!  
Summary – iPhone Security Features
Keeping our data and privacy secure is becoming an increasingly important part of how we use our devices. Even if none of the new iOS 16 security-focused features piques your attention, it's imperative to consistently update to the most recent iOS version because it almost certainly introduces crucial security updates and fixes problems that will enhance your experience.
Fellow developers, that's all. I hope you liked reading this article as much as I enjoyed writing it. If you want to support this blog you can Buy Me a Coffee or just say hello on Twitter. You can reach me on LinkedIn, or send me an e-mail through the contact page.
You can also sponsor this blog so I can get my blog free of ads networks.
Thanks for the reading and… That's all folks.
Image Credit: Wikiart